Creator, the Ultimate Test Design Automation Solution
AI-Driven Test Design for Enhanced Software Quality
Reduce your test design process times by 20 times! With Conformiq Creator, you can create highly detailed models through visualized flowcharts to set up and maintain all your testing assets. Our AI-powered model-based testing solution automatically generates optimized, executable test cases and test scripts for your applications under test. Creator enables in-sprint test automation for every required variable throughout your agile software development cycles with a CI/CD pipeline integration.
• Minimal human intervention needed
• No programming experience required
• Easy integration with standard test automation platforms
• Fully customizable test coverage: from specific targets to complete coverage
• Collaborative test automation: ideal for agile teams, QA and DevOps
AVAIL YOUR FREE CREATOR DEMO
REQUEST DEMO
The Best Automated Test Case

Generation Solution
Eliminate Manual Tasks
Manual test case creation based on your requirements is time-consuming and tedious for testers. Thanks to Conformiq Creator, software testers can leverage a detailed model-based testing approach. By creating a visual representation of the application under test, Creator adapts quickly to new product requirements, eliminating the time necessary for laborious manual test case creation, test execution, and script maintenance during short sprints.
With Conformiq Creator, business analysts and quality assurance (QA) specialists can iteratively create models for the functionality to be tested. Our solution attains 100% test coverage, generates optimized test cases, and creates test documentation. The users can define the application under test using flowchart diagrams and specify what needs to be tested while Creator provides them with the most optimized, automated test suite.
Better known test coverage, reaching 100%
Tight coupling with your existing SDLC tools
Directly executable test scripts and validations
Faster test design
Shorter testing cycles
 Higher test quality
The Industry's Most Advanced Test Visualization
Conformiq Creator's engine analyzes your application's workflow and logic from your requirements, visually reproduces them as a flowchart graphic and automatically generates the appropriate set of executable automated test cases or test scenarios and scripts covering the full functionality under test. You can subsequently execute test cases, automated scripts, and validations in perfect sequences for continuous testing throughout your agile software development lifecycle.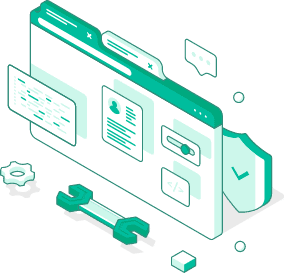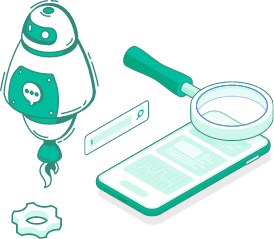 Maximize Test Coverage and Reduce Costs with AI
Graphic visualizations allow easy maintenance and fast change management during multiple iterations. Our solution uses industry-leading artificial intelligence and machine learning algorithms from the model to automatically design the necessary tests with test data while swiftly generating scripts for direct automated test execution on your platform.
Integrate with your Test Management Tools
Conformiq Creator integrates with your existing SDLC and test management tools, including Atlassian, CA Rally, IBM, Micro Focus, and Microsoft. Its user-friendly front-end interface allows any team member without programming skills to specify, review and contribute to modeling for test generation. Besides, Creator allows deeper integration into existing testing platforms, toolchains, and further test process automation.





Ensure Premium Software Quality
The bottom line is that Conformiq Creator has been designed to take the complexity out of testing complex real-world applications. It is one of the most advanced test design automation tools available, accelerating the development lifecycle of enterprise and IT applications, including web services (REST, SOAP), user interfaces, back-end, mainframes, APIs, and more.
Read more about Creator's step-by-step process and develop better applications with less testing effort today!
Senior Test Manager
"On the surface, many features that are shown in a demo look similar but, in digging deeper, the core difference is huge. The ability to comprehensively test real world applications and the efficiency gain differences are hugely different. While others tools do this manually, Conformiq automatically generates the optimized test cases including both data and business logic, expected test results, automated test scripts, traceability, graphical coverage, and customized reports."
QE Manager
"We have been using Conformiq Creator for the past four years and six months and very happy with the team's knowledge. Though optimized and automated test generation is the core functionality, the product's integration with other tools sets it apart. With proper integration to the automation framework, we were able to achieve in-release automation."
Director of QA
"Thanks to Conformiq for their support during our new project where our team was building some of the most complex models our development team has ever seen. Current models generated as many as 26,000 test targets to cover and optimize. Driven by their advanced leading edge, we were able to achieve 92% test automation, $8 mn automation savings and zero production defects. We are pleased to continue to work together to achieve improved test generation efficiencies through better and advanced capabilities."
Leading Analyst
"This full automation is at the heart of Conformiq's proposition: that you should never have to fall back on manual coding. As far as we know, the company's product suite is unique in providing this capability: it generates executable test scripts, test validations, and test data directly from the model of the system under test. Conformiq Creator generates tests scripts that are ready for automated execution without manual intervention and if desired Conformiq Transformer automates the link to the execution tool. This comprehensive end to end automation enables major efficiency gains over traditional manual testing methods and test execution tools which lack the capability to automatically generate optimized test cases."
Technical Architect
"I have been using Creator for past 6 years and evaluated multiple products before zeroing in on Conformiq. Conformiq integrates well with various automation tools and auto-generates between 60% and 80% of the automation scripts. This feature has helped us to improve automation coverage and enabled us to run regression tests repetitively. Conformiq provides easy maintenance for change requests. The tool will generate auto-generate impact analysis data, which can be carried to test automation as well, easing efforts for automation script maintenance. This product has the ability to integrate with various test management tools and version control tools."
Optimized Test Case Creation

at the Speed of Development
Conformiq Creator's visual approach simplifies the creation and adoption of requirement-based testing models. Our solution simulates the software functional aspects of your requirements while specifying how test assets will be leveraged.
Model your System Under Test in Just Minutes
Conformiq Creator creates a visual model of your system under test as an activity diagram with the requirements or can leverage existing test assets through a reverse engineering approach. Our reverse engineering approach allows you to re-use your existing test assets to significantly accelerate modeling and achieve test automation through minimum manual efforts. Importing existing test assets like manual test cases, ALM test plans, Micro Focus BPT components, Gherkin feature files, Microsoft Visio, or BPMN assets, Creator seamlessly eliminates test duplication to generate optimized models. Without human intervention, logical inconsistencies and redundant workflows are automatically removed from the process.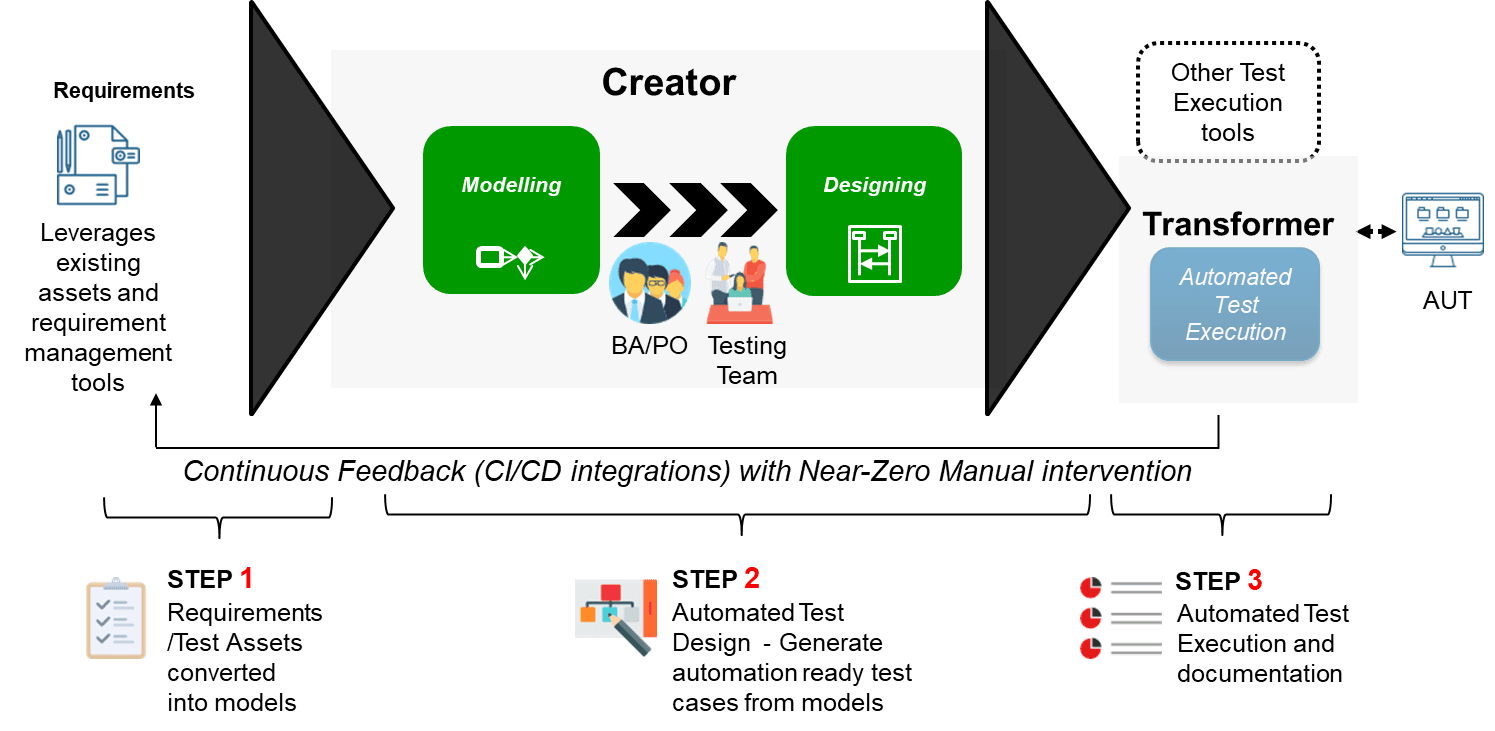 Run your Tests in any Programming Language, on any Platform
The Conformiq Intelligent Test Design Automation engine (CITA) uses multi-core processing and advanced algorithms to quickly generate executable test scripts, test input data, test case names, and test step documentation. It fully covers user requirements and data in any language. It also automatically generates a traceability matrix, message sequence charts, and visual test coverage with graphics.
A dedicated interface detects problems and enables user selection of the requirements to test. Models can call other models, allowing sub-models, and test data can be defined either within your model or an external spreadsheet. You can also synchronize your model with requirements from several third-party products, including Micro Focus ALM, CA Agile Central, and Atlassian JIRA. Alternatively, you can connect requirements directly within Conformiq Creator.
Easy to create, visibly intuitive Models
The models' groups can converge on requirements and generate an optimized test suite through your chosen integrated execution automation environment. These test cases are easily integrated with a third-party test automation solution or a test management framework and seamlessly exported as documentation or manual tests.
Directly executable test scripts are automatically generated in any language and format so that you can integrate your tests with user-defined test execution frameworks. Creator also generates complete test documentation and test plans to Excel or an ALM tool allowing project stakeholders to review customized Excel, HTML, and XML formatted reports.
Why Choose

Conformiq Creator?
Conformiq Creator is easy to use, detailed and comprehensive. It allows you to automatically generate all required testing assets, including executable test scripts, test data, and test validations, and execute the tests without writing any code.
Our test design solution provides an extremely high level of automation and correspondingly significant gains in productivity and efficiency. It also positions your model as a single source of truth for all your testing assets. Conformiq Creator makes all your tests substantially easier to maintain, particularly during change management.
Utilization of familiar testing concepts: keywords, flow charts, spreadsheet data import, and more
Easy-to-model tests for web, desktop applications, and web services with native UI components
Built-in plugins for test execution tools, application lifecycle management, requirements, and more
High re-usability when requirements change: speed up your testing turnaround for quicker time-to-market
Tool of choice for common enterprise testing areas: application, integration, E2E, and use-case-driven testing
Use Case:

How a Financial Institution used Creator
A global financial institution wanted to track and maintain customer data better, so they chose Salesforce as their CRM. The company needed an omnichannel testing solution with scalable features for environment testing that would be able to provide them with information on how well the new CRM worked across different channels before its implementation.
With Creator, our client's testing teams met their test sprints requirements with minimal fuss. They quickly created test cases for each sprint and passed them into their in-house automation framework for one-click execution. Creator was also easily integrated into their Micro Focus ALM and JIRA data center environments for test and defect management.
• If you want to use Conformiq Creator, you can schedule a call with a sales team representative. Just fill out the form here. You'll be able to discuss your specific needs and see how Creator can help streamline your workflows.
• If you want to learn more about Conformiq's other products, call +1 408 898 2140