Transformer, Simplified Test Execution Automation
Convert your Tests for Optimized Execution
Do you need to accelerate your test execution process while maintaining your flow's integrity? Conformiq Transformer, our best-in-class solution for automated test execution, reduces the usually required time and resources by up to 70%. Compatible with industry-standard SDLC and test design automation toolset, our innovative software platform enables the optimized execution of your tests while improving your DevOps & QA teams' productivity and reducing costs.
Keyword-based test automation system
Scriptless end-to-end automation of test cases
Automated execution of new and existing tests
Automated test scripts generated directly from models
Integration with industry-standard test execution tools
Preferred solution for web-based applications testing
AVAIL YOUR FREE TRANSFORMER DEMO
REQUEST DEMO
What is

Conformiq Transformer?
Automate your Test Execution without Programming
Conformiq Transformer is a scriptless keyword-driven test execution automation solution revolutionizing test automation frameworks. It allows transforming new and existing test cases for efficient automated test execution without programming, coding, or scripting.
• Transformer directly converts all current manual test cases into an automatic test execution flow.
• Combined with Creator and ALM tools, you get a seamless CI/CD process, from Requirements to Automated Execution.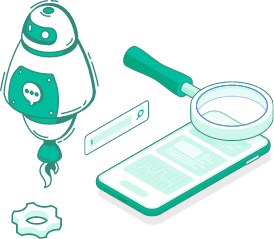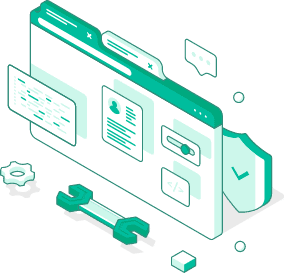 Perform Test Execution Faster and more Easily
While Creator generates executable test cases, scripts, and coverage from models, Transformer automates the execution process whether you provide test cases automatically generated by Creator, or existing test cases, manually created. Transformer will easily integrate with your SDLC process without requiring changes to your current tools, standards, and flows. It will even extend the value of a wide range of industry-standard test automation tools – commercial and open-source – when you want to automate your test execution process.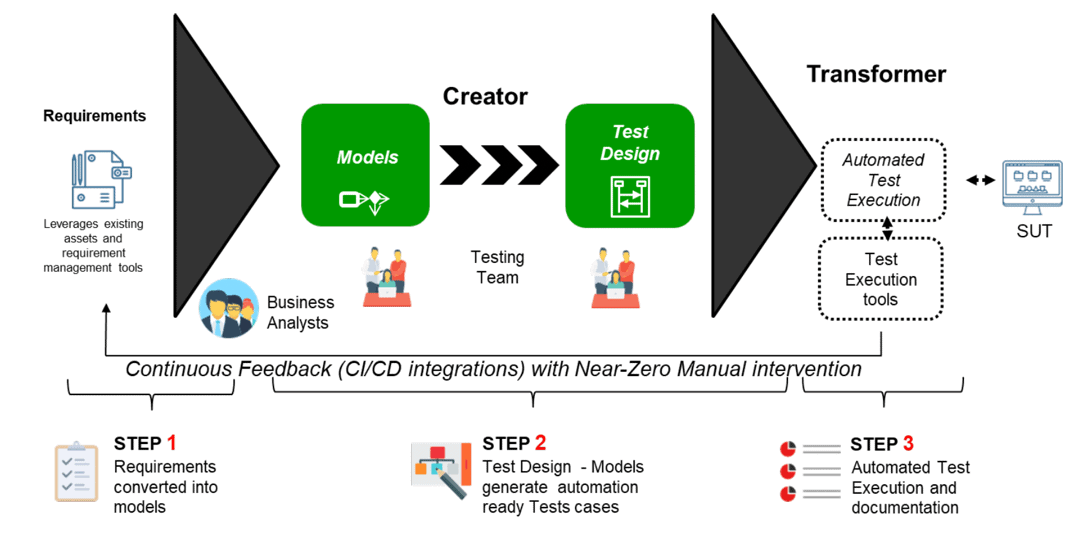 The Bottom Line, you Shorten the Path to Test Automation
The perfect addition to Creator – our automated test design solution, Transformer shortens the path to test automation by automating test execution. It simplifies the adoption of model-based testing (MBT), automates manual test execution, and significantly improves DevOps continuous integration (CI), in-sprint, and agile processes. Transformer connects automated execution frameworks and SDLC tools and techniques while leveraging existing test assets – test cases, requirements, and prototypes.
Increase your projects' velocity today with Transformer automated test execution for all platforms and frameworks!
Senior Test Manager
"On the surface, many features that are shown in a demo look similar but, in digging deeper, the core difference is huge. The ability to comprehensively test real world applications and the efficiency gain differences are hugely different. While others tools do this manually, Conformiq automatically generates the optimized test cases including both data and business logic, expected test results, automated test scripts, traceability, graphical coverage, and customized reports."
QE Manager
"We have been using Conformiq Creator for the past four years and six months and very happy with the team's knowledge. Though optimized and automated test generation is the core functionality, the product's integration with other tools sets it apart. With proper integration to the automation framework, we were able to achieve in-release automation."
Director of QA
"Thanks to Conformiq for their support during our new project where our team was building some of the most complex models our development team has ever seen. Current models generated as many as 26,000 test targets to cover and optimize. Driven by their advanced leading edge, we were able to achieve 92% test automation, $8 mn automation savings and zero production defects. We are pleased to continue to work together to achieve improved test generation efficiencies through better and advanced capabilities."
Leading Analyst
"This full automation is at the heart of Conformiq's proposition: that you should never have to fall back on manual coding. As far as we know, the company's product suite is unique in providing this capability: it generates executable test scripts, test validations, and test data directly from the model of the system under test. Conformiq Creator generates tests scripts that are ready for automated execution without manual intervention and if desired Conformiq Transformer automates the link to the execution tool. This comprehensive end to end automation enables major efficiency gains over traditional manual testing methods and test execution tools which lack the capability to automatically generate optimized test cases."
Technical Architect
"I have been using Creator for past 6 years and evaluated multiple products before zeroing in on Conformiq. Conformiq integrates well with various automation tools and auto-generates between 60% and 80% of the automation scripts. This feature has helped us to improve automation coverage and enabled us to run regression tests repetitively. Conformiq provides easy maintenance for change requests. The tool will generate auto-generate impact analysis data, which can be carried to test automation as well, easing efforts for automation script maintenance. This product has the ability to integrate with various test management tools and version control tools."
Why Choose

Conformiq Transformer?
Robust Features to Ease the Testers' Work
No need for programming! Conformiq Transformer automates the execution process. It can be test cases automatically generated with Creator or test cases manually created. It can also re-use existing test cases, requirements, and prototypes. Thanks to features like drag and drop, form-based test suites, test case and keyword editors, assisted keyword automation, or live-check of test suites, Transformer eliminates time-consuming, unmaintainable scripting. Therefore, Transformer reduces your testing effort and the need for test execution expertise by automating functional testing and test execution. Most importantly, Transformer minimizes the need for any manual involvement, programming, coding, and scripting.
Automatically Run your Tests Continuously

Transformer fully automates text execution for any major SDLC, execution framework, and platform: Application Lifecycle Management, Test Management, Automated Test Execution, and Requirements Management systems.

Transformer imports manual tests for automation and transforms manual tests into automatically executable tests. When combined with Creator, it provides the only integrated link between automated test case generation and automated test case execution.

With its Eclipse integration capabilities, Transformer offers a consolidated view of automated test case design, creation, execution, management, and validation while supporting existing and/or open-source test execution tools.

With Transformer, you will achieve consistent, reliable, and repeatable tests with complete traceability.
What are Transformer's

Main Benefits?
Conformiq Transformer helps automate the test execution process, resulting in invaluable benefits.
→ Increase DevOps and QA teams' productivity
→ Scale, visualize, and optimize your test coverage
→ Integrate seamlessly with SDLC tools and processes
Scale

and

optimize

Tests
Thoroughly test complex systems with a minimum of test cases; optimize regression test suites
See generated tests, what they cover, and why they're needed
Gain visibility into what has been tested and what has not
Integrate

your test flows
Tightly integrate with all your existing SDLC tools and processes
Directly link your tests with current test case design automation tools
Increase

productivity
Automate functional testing with minimal manual involvement
Leverage existing test assets – test cases, requirements, prototypes
Eliminate test automation backlogs
Do you want to know more about Transformer and how to make it an efficient extension for Creator?
• If you want to use Conformiq Transformer, you can schedule a call with a sales team representative. Just fill out the form
here
. You'll be able to discuss your specific needs and see how Transformer can help streamline your test execution process and be a great addition to Conformiq Creator.
• If you want to learn more about Conformiq's other products, call +1 408 898 2140.