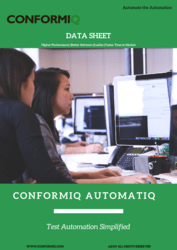 Conformiq AutomatIQ
Conformiq AutomatIQ is a sophisticated and comprehensive automated test script generation solution that employs AI technology in a new way. The solution leverages Artificial Intelligence to convert manual tests specified in Excel file or test plans without modelling, directly into automated test execution scripts.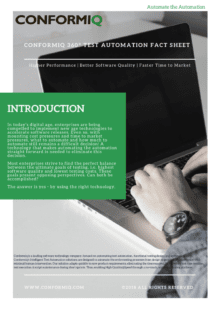 Conformiq 360° Test Automation
Conformiq's 360° Test Automation is a Continuous Testing solution that integrates automation of everything from requirements to test execution. The solution leverages AI technology to automatically interpret the model logic to automatically think of and generate optimized test cases, reports documenting test coverage, plus the executable test scripts and test validations for automated execution in the platform of your choice.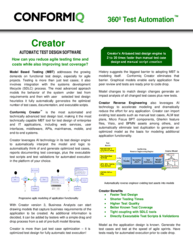 Conformiq Creator
Conformiq Creator is an excellent choice for automating the testing of Enterprise IT applications, web applications and web services. It requires no programming skills. Creator is designed for automating functional testing, application testing, system testing and end-to-end testing…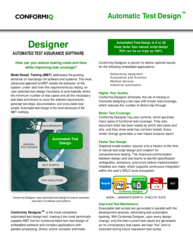 Conformiq Designer
Conformiq Designer uses all the power of Java so it is an excellent fit for test automation of very complex systems such as embedded software and network equipment. Highly intelligent algorithms can determine right tests automatically, improving your software quality…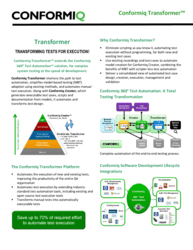 Conformiq Transformer
Conformiq Transformer automates the execution of new and existing tests, improving the productivity of the entire QA organization. It transforms tests for execution by a wide range of industry-standard tools, simplifying MBT adoption, automating manual test execution, and accelerating the path to test automation. It builds upon Conformiq Creator and extends the Conformiq 360 Test Automation solution for complex system testing at the speed of development, saving up to 70% of the required effort to automate test execution…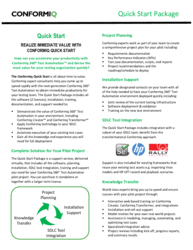 Conformiq Quick Start
Conformiq Quick Start is about time to value. It helps you come up to speed rapidly with Automatic Test Design for immediate benefits, and increased adoption across your team. The complete Quick Start solution provides everything you need to apply our transformative technology: software, training, expert consultants, planning, framework integration, documents, and online support…