Real-world examples of

Conformiq solutions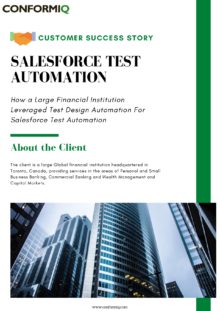 A Large Financial Institution Leveraged Test Design Automation For Salesforce Test Automation
When a large global financial institution was tasked with implementing Salesforce to integrate the CRM platform into all Lines of Business applications, they chose Conformiq Creator to model the Salesforce application and rapidly generate test cases to keep in sync with the agile deadlines. As a result, the customer organization was able to integrate existing and future products while decreasing administration costs.
Major Pharmaceutical Company Undergoes Testing Transformation to Reduce Costs and Improve Overall Testing Process
A US headquartered global pharmaceutical corporation with over $16B in annual revenues faced the increasingly challenging issue of rising testing costs. The solution, provided by their testing services partner, included Conformiq Creator, which enabled them to achieve a 94% test efficiency gain.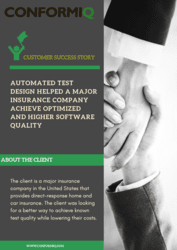 A major Insurance company achieved optimized and higher software quality for complex detailed process driven API with Test automation approach
When a major insurance company was tasked with reducing the testing time for complex detailed process driven API, they chose Conformiq Creator to help them with test design and product delay related challenges. As a result, their testing processes became faster, more reliable and predictable, cutting their testing time and costs almost in half.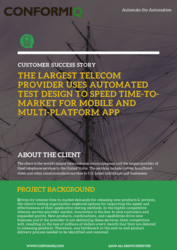 The largest Telecommunications provider uses Automated Test Design approach to speed Time-to-Market for Mobile and Multi-platform apps
A major telecommunications provider achieved 100% requirements coverage with 75% faster test execution for e2e product delivery. With Conformiq Creator's automated test design approach, the client organziation was able to improve customer experience significantly through faster test case creation without sacrificing any test coverage.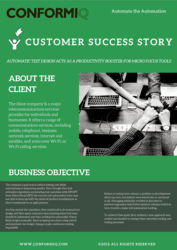 A major telecommunications provider achieved complete in-sprint test automation for Agile processes using automated test design with existing HPE/Micro Focus tools
A major telecommunications provider achieved Continuous testing and in-sprint test automation with 40% reduction in testing time as they transitioned to Agile processes with existing HPE/Micro Focus test automation tools. They were able to meet company's goal of increased productivity and lesser testing costs with automated test design, which resulted in e2e automation approach.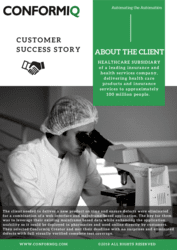 A leading healthcare provider achieved 83% effort reduction in test case development for Mainframe based applications
A leading healthcare providers wanted to increase productivity and eliminate defect for a combination of web interface and mainframe based applications. With Conformiq Creator, they realized 6x productivity gains and 83% reduction in test case development efforts.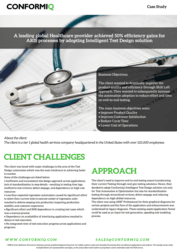 A leading healthcare provider achieved 50% efficiency gains by adopting Intelligent Test Design solution
A US headquartered healthcare providers wanted to improve product quality with higher automation adoption. Conformiq Creator helped them with 50% efficiency gain for ARIS processes.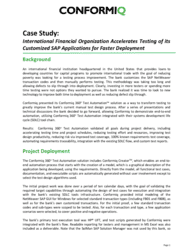 International Financial Organization Accelerates Testing of its Customized SAP Applications for Faster Deployment
An international financial institution, headquartered in the United States, providing loans to developing countries for capital programs to promote international trade, was looking for a testing process improvement. Their manual testing methodology was taking too long and allowing defects to slip through into deployment. Clearly, investing in more testers or spending more time testing were not options they wanted to pursue. The bank realized it was time to look to new technology from Conformiq to improve both time to deployment as well as reducing defect slip-through.
Global Banking Company Transforms Testing to Overcome Challenges of Shortening Development Cycles
One of the world's largest global banking companies, a bank with over 200 million customer accounts and banking operations in over 160 countries and jurisdictions, is continuously looking to leverage new technology and processes wherever possible.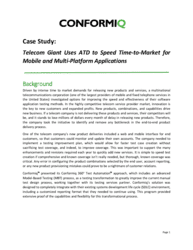 Telecom Giant Uses ATD to Speed Time-to-Market for Mobile and Multi-Platform Applications
Driven by intense time to market demands for releasing new products and services, an American multinational telecommunications corporation (and one of the largest providers of mobile and fixed telephone services in the United States) investigated options for improving the speed and effectiveness of their application testing methods.