Conformiq Pioneers The Concept Of Data Driven Testing
Press Release
California, USA, June 4th, 2021. Conformiq, a leading provider of next generation test automation solutions has announced a new patent registration in expanding data-driven test case generation to strengthen their Test Case Design Automation technology. This patent addresses the integration scenario with separate test flow and test data activities. This innovation allows you to combine automated test design with manual and other test data design approaches (for example, it allows integration with production data) as it can automatically cross checks that externally provided data is consistent with the original model plus then it can adjust all the dependent data values to perfectly fit with the manual updates as shown in the figure a below: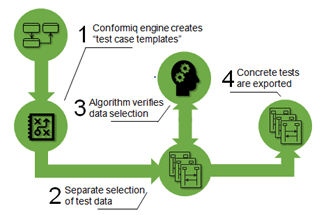 Figure a: Workflow
With this enhancement, Conformiq's products are quipped to support data verification that will automatically determine which user specified data values are redundant to optimize test cases for execution. Additionally, it will also automatically identify if any necessary data is missing for complete test coverage. Hence, dramatically improving test design efficiency and coverage. The differentiated approach validates the custom user data assignments against the model logic by allowing one to overlay the custom data on top of the generated test cases.
This approach will help resolving the biggest issue of 'sufficient and proper test data' in test design process which often adversely affects the comprehensively coverage of the software logic for any non-trivial software system. By overcoming a major part of test design that takes significant effort, experience and skill to excel manually, users can achieve improved test design efficiency and coverage.
What makes the approach unique is the ability to combines automated and manual approaches to test design. The approach uses test generation techniques to automatically create "test templates" in such a fashion that the user can afterwards refine the tests by modifying the data values in the generated tests. Manual modifications to the data values in the test cases are automatically verified for correctness preventing realization of an invalid test. Users can create multiple concrete test cases each with different data values out of a single test template.
Kimmo Nupponen, Chief Scientist and patent architect says, "Conformiq is a true pioneer and visionary in test case design automation for more than a decade now and evolving in data driven testing is a big achievement will pave he way for smart test case designing".
For more information on Conformiq's Automated Test Design, please visit https://www.conformiq.com/wp-content/uploads/2014/12/Conformiq-Automatic-Data-Design-White-Paper.pdf
About Conformiq:
Conformiq is a leading software technology company, focused on automating test automation, functional testing design and software quality. Conformiq's Intelligent Test Automation solutions are designed to automate the entire testing processes from design to generation to execution with minimal human intervention. Our solution adapts quickly to new product requirements, eliminating the time required for laborious test case creation, test execution & script maintenance during short sprints. Thus, enabling High Quality@Speed through a no-touch, script-free testing platform.
Conformiq's products integrate with all leading Test Automation and requirement management tools for e2e automation, uniquely auto-generating data, executable scripts and traceability.
Contact Information –
Supriya V Gondkar
Conformiq India Pvt Ltd